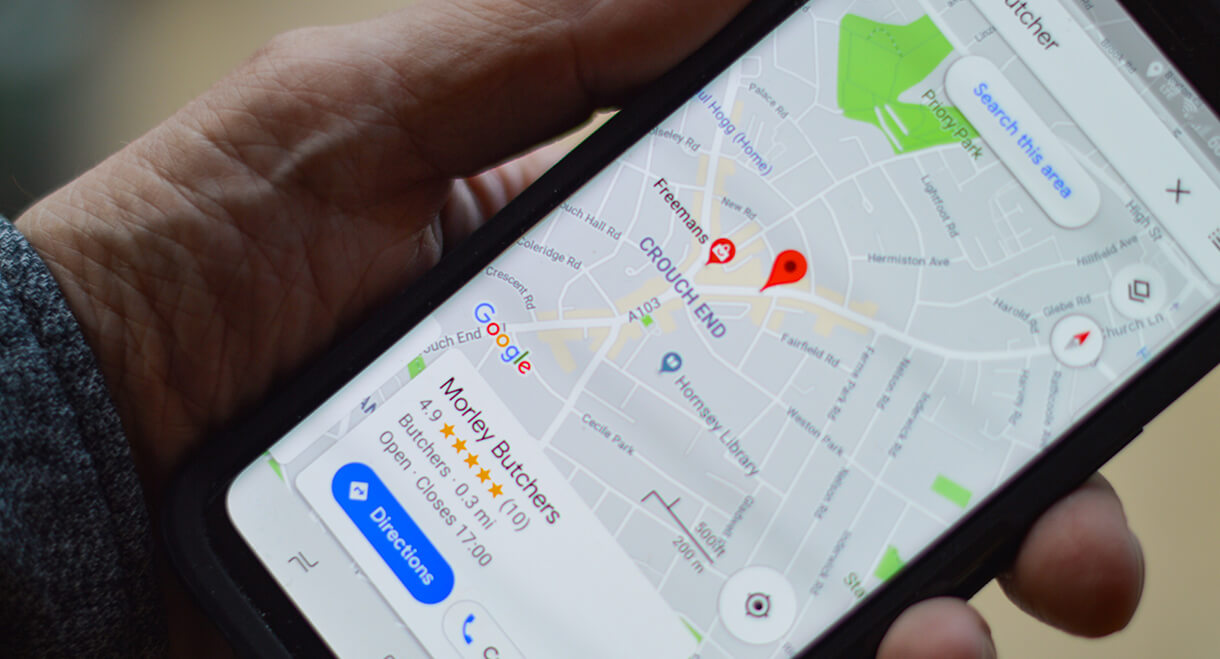 Google Maps is a web mapping service developed by Google. It offers satellite imagery, aerial photography, street maps, 360° panoramic views of streets, real-time traffic conditions, and route planning for traveling by foot, car, bicycle and air, or public transportation.
Wikipedia
1. GO COMPLETELY HANDS-FREE
We've all been guilty of glancing down at our devices while driving—to look ahead at the next turn, perhaps, or see how long is left in a commute. If you have an Android phone, there's a better way: Google Maps has a whole series of helpful voice commands that'll work whenever you're actively navigating.
Just say either "Hey, Google" or "Okay, Google" and then try variations on these examples:
"What's the closest hotel?"
You can also instruct your phone to make calls, send texts, play music, or look for your next appointment—all without ever taking your eyes off the road.
2. REMEMBER WHERE YOU PARKED
Open up Maps on your iPhone or Android phone and tap the little blue dot that represents your current location. That'll pull up a hidden menu with some handy options—including the ability to save your current parking location. You can add in your own supplementary notes or photos and even set a timer to remind you when it's time to move your car.
3. SHARE YOUR LOCATION, EVEN AS YOU MOVE
Need someone to find you—or maybe just know where you are? Take a look at Maps' simple system for real-time location sharing.
To try it, open up Maps on your phone and tap the blue dot, just like in the previous tip, but this time, select "Share your location." You'll be able to set an end time for the location sharing or opt to keep it active until you manually turn it off. You can then select any of your contacts to share with or get a private web link to paste wherever you want.
You can also access the sharing function while in the midst of a Maps navigation by swiping up from the white bar at the bottom of the screen and then selecting "Share trip progress." That'll share your location with whomever you choose until you reach your set destination.
In either scenario, people who open the link will see an icon showing your current position on a map as you move—within the Maps app, if they have it, or in a regular browser window if they don't. You'll see an indicator at the bottom of Maps letting you know location sharing is active, and you can always stop the sharing by tapping that box.
4. SEARCH ALONG YOUR ROUTE WHILE NAVIGATING
That swipe-up-while-navigating menu mentioned in the previous tip has one other useful gem: an option to search along your current route.
Activating it will give you one-tap buttons for finding gas stations, restaurants, grocery stores, or coffee shops along your way from point A to point B. You can also type in your own custom search term—if, say, you want to see every Starbucks or Taco Bell that's on your present path.
5. FIND OUT WHAT'S NEAR ANYTHING
A similar sort of search is available in Maps, even when you aren't navigating. Any time you want to find specific types of places near your current location or any other spot, tap the search bar at the top of the mobile app and try variations on these queries:
"Pharmacies near Figueroa and 1st Street"

"Vegetarian restaurants near me"

"Gas stations near the airport"

"Things to do near the Florida Theatre"
You can also browse to see what's near your current location by opening Maps on your phone, and then scrolling and swiping through the Explore tab at the bottom of the screen.
6. GET A TICKET TO RIDE
The next time you're looking up a location on your phone and then decide to hail an Uber or a Lyft to get there, save yourself some steps and order your ride from right within the Maps app. After searching for a specific place and then tapping the Directions button, look for the icon with a person waving her hand in the air as if she were hailing a cab (located directly beneath the address bar, between the walking-person icon and the biking-guy icon).
That'll show you current prices and wait times for both Lyft and Uber, right then and there, and allow you to hop directly into the ride-ordering process within either app.