Think about how you use social media. Is it simply a method to connect with people? A distraction from boredom at work? Or is it a tool to reach thousands—even millions—of qualified customers?
"Business owners are bombarded by information about using social media, but have zero idea about how to start and build an audience," says investor and member of The Oracles Tai Lopez.
Lopez makes eight figures in revenue per year thanks to his colossal social media following. He went from 600,000 to 6 million Facebook fans last year alone, and has over 2.4 million Instagram followers.
He's trained more than 25,000 people on how to create a social media marketing agency.
Here are Lopez's tips on how yo
u can build an engaged following and profit from it.
Take a time inventory.
Before becoming a social media influencer, Lopez says the most important starting point is to identify your "authentic interests." "Write down everything you do every 15 minutes, especially when you're not working, he says. "After a day or two, you'll discover what you'd enjoy doing—even if you weren't paid."
As Lopez started to ramp up his social media presence in 2013, he took a time inventory. "I discovered that I like to read books while eating. I like to write, and contemplate life and philosophy. So, I decided to write about life by reviewing books I read while eating. The intersection of a few authentic interests was the foundation of what you see
today."
Choose your highly targeted niche.
Venture capitalist Peter Thiel famously said, "Competition is for losers." In the classic global bestseller, "Blue Ocean Strategy," the authors argue that cutthroat competition results in a bloody "red ocean" of rivals fighting over a shrinking profit pool. Instead, you can make the competition irrelevant by creating "blue oceans" of uncontested market space. Lopez believes that a highly targeted niche is key to creating your blue ocean on social media.
"Don't be all things to all people."
"Don't be all things to all people. You can serve businesses around your authentic interests — or at least what you're curious about," Lopez says.
"If you like books, approach a book publisher to do their marketing," he adds. "If you love food, work for restaurants. If you've had medical issues from a toothache, which a dentist resolved, you might be curious about preventing it and therefore be a good fit to do social media marketing for dentists."
Define your expectations.
To make money, Lopez estimates you need at least 5,000 to 10,000 followers on Instagram; 1,000 on YouTube; 5,000 to 10,000 on Snapchat; 10,000 on Facebook; and 2,000 to 5,000 on Twitter. For a podcast and email, the magic number is 5,000 subscribers respectively. But the followers, he cautions, must be "highly targeted." In other words, true fans.
"It doesn't matter if you have a million followers if they're all ghost followers," Lopez says, citing the importance of audience quality, not quantity.
"If I had a choice between having 100,000 random followers or 10,000 highly targeted niche followers, I'd pick the latter. You can make $1 per day per niche follower—about 100 times the revenue possible per follower compared to a broad audience."
Attract your highly targeted niche.
Lopez believes that 70 percent of your content must be in common with the audience you want to attract. Younger millennial audiences usually prefer modern, fast-paced, and flashy content on Snapchat or YouTube. But older audiences have different cultural and media preferences (mainly based on ease of use), favoring podcasts, Twitter, Facebook, and then Instagram.
Lopez recommends starting with Instagram because it straddles between attracting older and younger audiences. Or pick the platform that you're already doing the best on.
"Build that one central core platform and focus on growing followers from there," says Lopez, who originally focused on YouTube—remember "Here in my Garage?" Then "radiate out" by asking people to follow you on other platforms.
"I radiated out on Snapchat for the younger audience, and YouTube for the younger and older audiences. That's how I built my Twitter, Instagram, and Facebook followings."
Keep your audience engaged.
Lopez has one simple formula for keeping your audience engaged and growing: live a fascinating, authentic, adventurous life and share it through vlogging (video blogging).
It doesn't have to be fancy or time-consuming. "I've made more money with my iPhone than most people have made in their lives with high-tech equipment," he says.
"Snapchat is the most authentic mirror to my life because I post so often 'behind the scenes' of my everyday life. If I notice too much repetition in my Snapchat story, I think 'life is getting boring.' Instead of trying to change my social media, I just do more in my life."
"Travel more, read more, go to more events, think more, business network more, and your social media will naturally become twice as interesting and engaging."
Expand your reach.
Lopez recommends "shoutout for shoutout" exchanges as the least expensive way to grow a decent Instagram following of 10,000 to 100,000. How it works: repost another user's post and say "Repost" or "Follow my friend."
"Start with acquaintances who have a couple thousand Instagram followers. Just say, 'I love your post. I'm going to repost it on my Instagram and tag you.' Don't ask for anything in return. Many people are happy if you get them only 100 followers. Then you can come back a week later and say, 'I have this post, would you mind posting it for me?'"
Monetize.
Once you have an audience, it's time to monetize. The easiest way to start small is with Amazon Affiliates.
"If you know a lot about laptops, start posting 'unboxing videos'—where you unbox a laptop—on your Instagram. If you don't have the money to buy it, you could go to the store and film yourself reviewing it," Lopez says. Or if you have a big enough audience, manufacturers will send it to you for free.
"Using Amazon Associates, you can get paid between 5 percent and 10 percent for everyone who clicks on your special tracking link and buys. That could be $100 commission on a $1,000 laptop. If a few people buy, suddenly you're making a couple hundred bucks from it."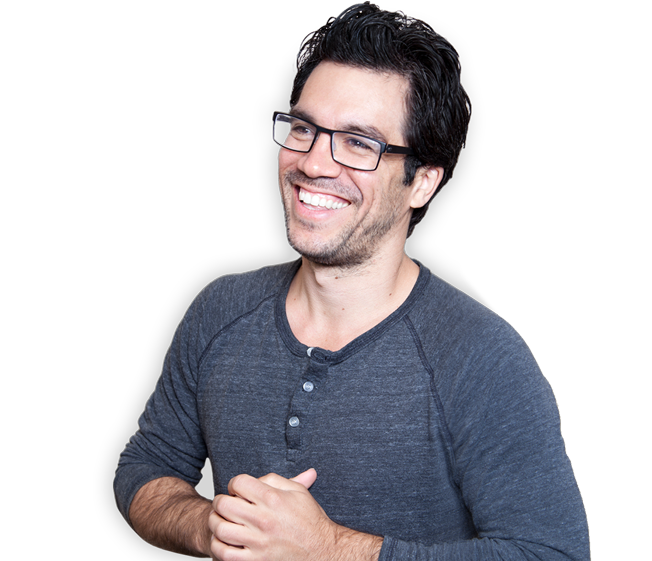 Get paid to be an influencer.
As you grow, another way to make money is to attract brands that work with influencers. Even 10,000 engaged followers are highly valuable to companies selling to similar demographics.
"You can start charging brands to wear their clothing. They might not pay you a ton, but it grows. When I started out, people wouldn't pay me anything. But I just got paid $35,000 to do a 10-second video for one brand."
Lopez tells of one friend who got free hotel rooms in exchange for a post about the hotel on his travel-themed blog. It was win-win. The hotel reached thousands of qualified people, and Lopez's friend got to travel for low or no cost while building his audience.